On the Records: Higher Ed Quiz Results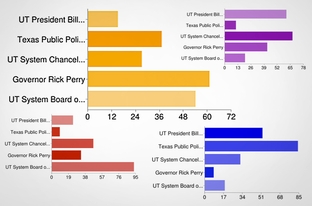 Earlier this week, we published a quiz to see if readers could distinguish between comments made about higher education by Gov. Rick Perry, University of Texas President Bill Powers, and others. It turns out: They (sometimes) can't!
We selected a total of 10 quotations, each one uttered or written by Perry, Powers, a Texas Public Policy Foundation official, University of Texas System Chancellor Francisco Cigarroa, or the UT System Board of Regents Chairman Gene Powell.
The choices were designed to get more difficult as the quiz went along, and that played out in the results. To date, more than 230 people took the quiz, and for the most part got the first five correct. The back half, though, has proven difficult.
In one instance, an overwhelming majority attributed a quote of Powell's to Powers. Meanwhile, Powers received the fewest votes for one of his actual statements. Voters mistook a quotation by Perry for one of Cigarroa's, whose actual remark was credited to the TPPF.
We'll take the questions one by one, providing the percentage of the votes received by each candidate followed by the correct answer (Spoiler Alert!).

Upcoming Events
Information Re: The 84th Legislative Session
What's New?