Texas Budget Stalls Over Education, Funding Sources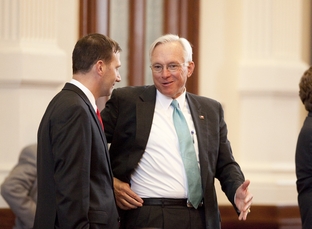 After a day of stops and starts and private meetings, Texas lawmakers don't have a budget deal yet.
House Appropriations Chairman Jim Pitts postponed debate Wednesday over two fiscal bills, SB 1811 and SB 1581, both of which are critical pieces of the budget puzzle. Both bills are now scheduled for debate on Thursday. Without passage of those bills — SB 1811 in particular — the budget would be short about $2.6 billion in revenue — almost a guarantee lawmakers will be back this summer for a special session.
Here's the problem: Senate Finance Chairman Steve Ogden wants the House to approve SB 1811 to pay for the budget, known as HB 1. But the House is unwilling to do that until a broad consensus has been reached by the budget conference committee made up of five senators and five representatives. They want a budget deal before the vote on HB 1811. It doesn't help that lawmakers have filed hundreds of amendments to the three so-called fiscal matters bills (SB 1811, SB 1581 and SB 23).
Because it's late in the session, those bills are in danger of becoming "Christmas trees" — ornamented with dead or dying legislation in the form of hundreds of far-ranging amendments. Those amendments range from a statewide smoking ban to an effort to make English the official language of Texas. Debate could last for hours or days.
"Why go through the exercise if it doesn't mean anything at the end of the day?" said state Rep. Larry Taylor, R-Friendswood, chairman of the GOP caucus. He also said the House remains uncertain over the Senate's proposal to spend $855 million more in Rainy Day funds and a few billion more on their highest priority: public education.