Texas College Republicans Target Ogden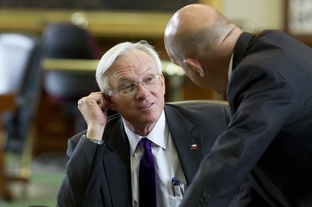 In a press release today, the Texas College Republicans said they were "stunned" by the actions of a member of the Texas Senate: Steve Ogden, R-Bryan.
According to the release, Ogden is the lone Senate Republican withholding support for Senate Bill 354 by state Sen. Jeff Wentworth, R-San Antonio. The measure would allow qualified individuals to carry concealed handguns on university and college campuses.
Previously expected to sail through the session with relative ease, the bill has hit a wall in the Senate, where Wentworth has been unable to muster the 21 votes needed to allow the bill to be considered on the floor. With two of the 12 Democrats and 18 of the 19 Republicans currently willing to take up the bill — a count confirmed by Wentworth's office — he is currently one short.
That means a nod from Ogden, who has previously expressed concern about the bill's inconsistency in allowing private institutions but not public ones to opt out, could put the bill over the mark and allow it to come to the floor, where it would likely pass.
"When you're the only person stopping something that everyone else in your party is supporting, it's time to reconsider your position," Texas College Republicans state chairman Steve Lettunich said, noting that campus carry legislation is his organization's top priority this session.
The Texas Tribune has put in a call to Ogden for a response and will update this post when one comes in.